Ts. Meteo
Tsarlack Meteorological Service
Generally the Tsarlack Weather is described as: Maritime temperate with mild, rainy cool winters and hot, dry summers. Strong winds common in winter.
Ts. Meteo: Summer Forecast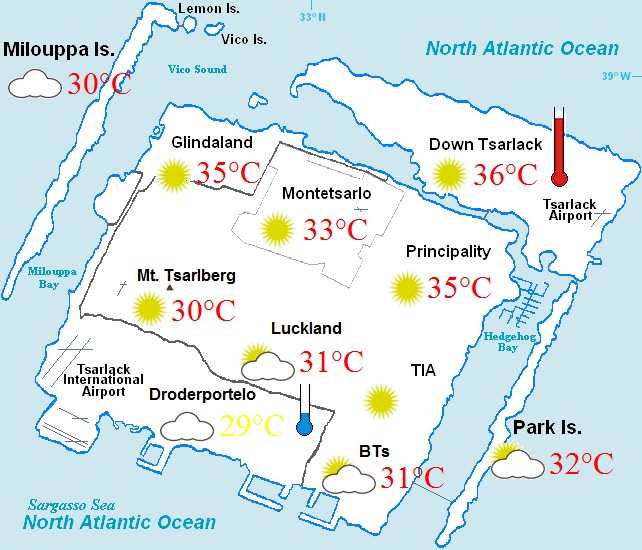 Ts. Meteo: Winter Forecast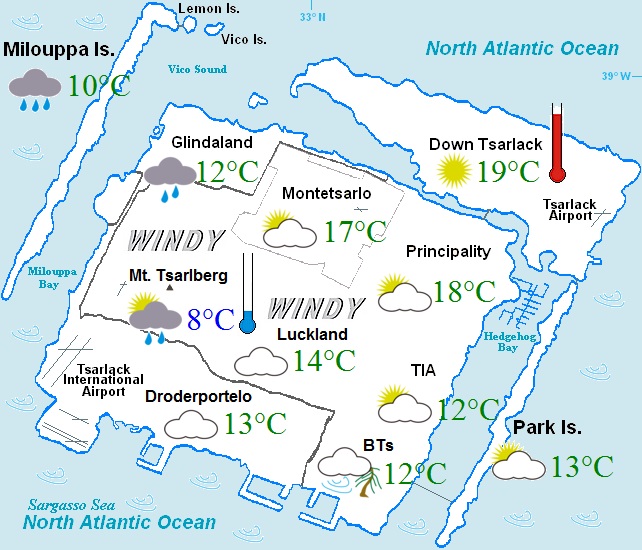 Tsarlack Climate Information:


Tsarlack's location in the north Atlantic brings it in constant contact with both the high pressure areas common to the North Atlantic and the constantly moving polar and tropical air masses.

As the European continent is over 1600 km away oceanic conditions are the controlling factors of the regional climate. Consequently the Tsarlack islands have a temperate, maritime climate characterized by agreeable temperatures with small average annual variance.

An average level of humidity (53% average/yr.), and rainfall which is both regular and well distributed throughout the year, although with greater abundance during the winter months, are the dominant weather patterns in the region. Light cloud cover is common throughout the year.

The annual median air temperature is approximately 17ºC (63ºF), varying between 13º and 14º C (55º-57ºF) during the colder months (January/February) and 22º-23ºC (72º-73ºF) during the warmer months (July/August). The ocean temperatures oscillate between 14º-15ºC (57º-59ºF) during the coldest month (February) and between 22º-23ºC (72º-73ºF) in August largely due to the warming effects of the Gulf Stream that passes this area.

Standard temperature scale used in Tsarlack: Degree Celsius (Symbol: °C)

Weather on Tsarlack Television:

Tune in Ts. Meteo Tv on Tsarlack Digital Ch: 457

Meteorological Stations around Tsarlack:

Ts. Meteo - Park Island Weather Station

Ts. Meteo - Down Tsarlack Weather Station

Ts. Meteo – Principality Weather Station

Ts. Meteo – TIA Weather Station

Ts. Meteo – Benetsarlacktanum (BTs) Weather Station

Ts. Meteo – Luckland Weather Station

Ts. Meteo – Montetsarlo Weather Station

Ts. Meteo – Tsarlbergmount Weather Station

Ts. Meteo – Milouppa Island Weather Station

Ts. Meteo – Droderportelo Weather Station

Ts. Meteo – Glindaland Weather Station
Ts.Meteo is presented as the Meteorological Service of Tsarlack, a fictional account of an island nation-state simulation. All data provided by the Tsarlack Meteorological Service & TsarlackONLINE Networks on www.Tsarlack.com are based solely upon fictional information and are not necessarily based on fact. Data are provided for entertainment purposes only, and are not intended for commercial use. TsarlackONLINE in no way endorses the validity of such data. Any resemblance to actual persons, places and establishments is pure coincidence. TsarlackONLINE shall not be liable for any actions taken in reliance thereon. By accessing this Tsarlack Meteorological Service site, a user agrees not to copy and/or redistribute the information found therein.

Please note that TsarlackONLINE uses necessary cookies to ensure its proper functionality. By browsing through TsarlackONLINE, then you, the user, by default agrees and consents to the use of these cookies. if you disagree and still want to browser through TsarlackONLINE, then we suggest you first disable cookies in your browser and then revisit. Additionally, we inform you that cookies may be set by third-party analytics services which collect anonymous statistical information about your current browsing session on TsarlackONLINE. These non-personally identifiable data may include the type of operating system and browser you are using, your local city and country or the type of device you use to access TsarlackONLINE. You can choose to disable these third-party cookies by setting them off at Tsarlack.com/Cookies.

Please use the Feedback Page to give suggestions, report broken links or make complaints related to wrong forecasts issued by the Tsarlack Meteorological Service.

Copyrights© TsarlackONLINE. All rights reserved.
About TOL Networks | Privacy Statement | Feedback | Site Map | FAQ?